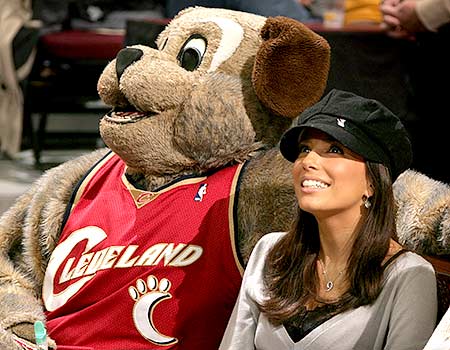 In Wednesday's article, Dan Labbe of the Cleveland Plain Dealer wrote in his Cavaliers Corner blog that Moondog has let him down. Apparently, when the Cavs were playing in Pittsburgh this week, Moondog tore off a Browns jersey to reveal a Steelers jersey underneath. Sure it was in bad taste, but it was a preseason game, and mascots sometimes play to the home crowd for laughs. At least he didn't fall off a wall during a nationally televised playoff game.

In his blog, Dan wrote "Admittedly, I don't really care. I'm more offended by the idea of Moondog as the Cavs mascot. It just doesn't make sense." Later he commented, "Then again, Moondog didn't grow up in Cleveland, so he can root for whatever team he wants."

Ok Dan, what makes "sense" as a Cavs mascot? Which definition of a Cavalier do you want to create a mascot from, the mounted knight on a horse galloping across the court, or a perfect gentleman leading some chick in a dance?

Maybe not relevant to the Cavs, but the Moondog is completely relevant to Cleveland. And while it is true that Alan Freed--the Moondog--was born in Pennsylvania, his family moved to Salem when he was 12 and he lived and worked in the Cleveland area for years.

To be fair, I liked Dan's previous blog entry about LeBron James and the New Jersey/Brooklyn Nets. After years of reading Bud Shaw's dreck, it is a welcoming sight to see Brian Windhorst writing for the Plain Dealer. Let's hope he rubs off on Dan and the rest of the writers.